Back to the complete issue
Wednesday, 7 December 2022
Getting into the nitty gritty of climate finance at Enterprise's Climate X Forum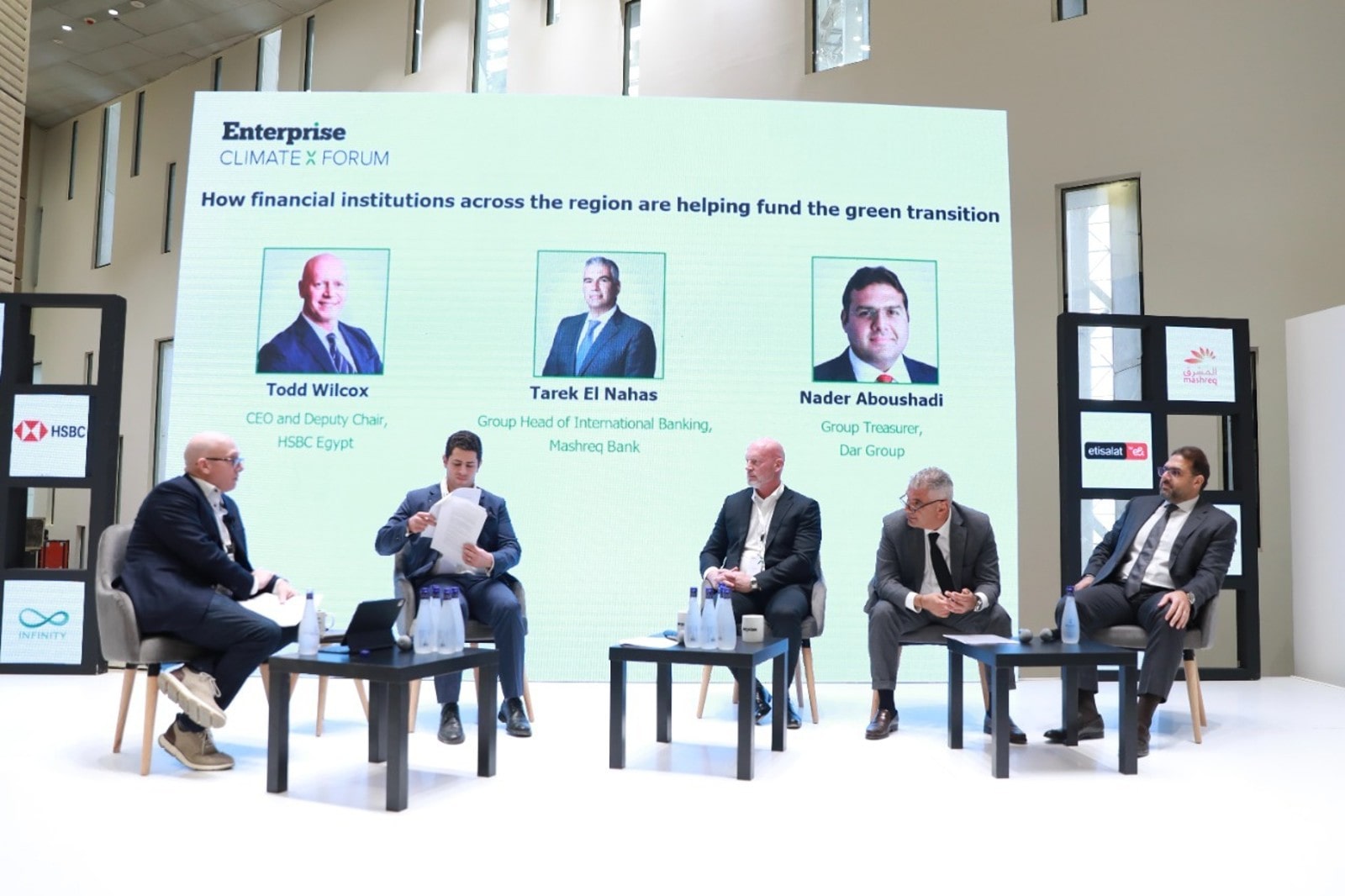 How to capitalize on the growth potential of climate and sustainability finance — an Enterprise Climate X panel discussion: Enterprise Climate X's climate finance panel tackled where the opportunities are in the climate industry for banks and for their clients. We discussed where the funding is coming from, the mainstreaming of gree- and sustainability-linked finance, who counts what's qualifies as green or sustainable, worries about greenwashing, what's driving appetite among corporates for green and sustainable finance, and more.
The discussion brought together:
Todd Wilcox, CEO and vice-chair, HSBC Egypt
Tarek El Nahas, Group Head of International Banking, Mashreq Bank
Nader Aboushadi, Group Treasurer, Dar Group
Climate and sustainability finance are a huge area of growth for banks: "This will be a significant growth sector for us in the next five years," said HSBC's Wilcox. Mashreq considers this kind of financing to be its "single biggest" growth prospect, having facilitated USD 13.5 bn sustainability-linked loans in the last two years, with a commitment to more than double this by 2030, said El Nahas.
Looking beyond MENA shows how speedy this growth could be: Globally, HSBC participated in green and sustainable transactions worth some USD 46 bn in 2021 — three times the value of 2019, said Wilcox. And in Europe today, some 40% of all loans provided are sustainability-linked — up from effectively zero five years ago. "Imagine as this starts moving into the MENA region," said El Nahas.
Dar Group sees a "massive" business case to deliver sustainability solutions to clients on a daily basis, said Aboushadi. Large-scale projects in areas like district cooling and the design of stadiums in Qatar are key examples of its work in this field, he added, all of it demanding, by definition, green finance.
The market for sustainability-linked finance market could be significantly larger than that for straightforward green finance market, El Nahas noted. Green loans and bonds are often used to finance climate-friendly greenfield projects such as wind farms or hydrogen plants, often with a blended finance component. But sustainable finance and sustainability-linked finance can be priced at commercial market rates, possibly with incentives linked to a project's KPIs, but no concessional financing. The scope of sustainability instrument deployment is broader than that of pure green finance.
In the GCC in particular, much of the demand for sustainability-linked finance will come from highly-polluting industries: "It's not only the green industry that's going to lead this transition," El Nahas said. A bank with clients in the GCC can't realistically refuse to finance the carbon industry, for instance. "What's more interesting is who's acting responsibly." If a company in the UAE that consumes over 30% of the country's electricity seeks CAPEX financing to build a solar plant that will reduce its consumption by 5%, "that moves the needle" — potentially making a substantial dent in emissions, he noted.
There is strong and growing demand for sustainable finance across Egypt and the wider region, says Wilcox. "Working with clients on their sustainability plans, my big learning is the clients are leading us," says the HSBC CEO. Local arms of multinationals, in particular, are highly engaged with sustainability topics, and are generally among the most advanced in their thinking and action on the subject as they answer to investors and shareholders whose net-zero commitments have an impact across the whole value chain, Wilcos noted.
"It's not regulatory-driven. It's being driven by money," Wilcox added. "People are looking for returns that are sustainability-linked." The banks themselves wouldn't be able to drive this change if there wasn't a clear economic value proposition, he noted.
Companies with sustainability plans are becoming more appealing for banks to lend to: Many banks have their own sustainability targets, often highly correlated with country commitments or investor requirements, Wilcox said. He and El Nahas agreed there is a burgeoning market for corporates looking for sustainable finance from banks — that banks will be competing for corporate business, a trend that will only accelerate as more and more companies integrate sustainability into their business operations, Wilcox noted. Companies with sustainability plans will see multiple banks and investors coming to them.
Don't have a sustainability plan? "If you don't have a plan, the cost of capital will continue to go up," Wilcox added.
Case in point: Mashreq was sustainability advisor for Bahrain's Noga Holding's recent refinancing of its existing debt, noted El Nahas. Demand from participating banks for transaction ultimately outstripped the size of the facility, El Nahas noted.
What could edge sustainability-linked finance ahead of conventional finance? More standardization and clarity: An international company operating in different jurisdictions could risk accusations of greenwashing if it borrows in one part of the world and then deploys the funds in an area with different reporting requirements or classifications of assets and liabilities, said Aboushadi. "The market is there, and the [agreements] would be there if there was more clarity."
International sustainability standards — in particular the International Sustainability Standards Board (ISSB)'s forthcoming work, brought to you by the people who created IFRS, the de-facto global standard for accounting — could be a good start, our panelists agreed.
But country differences will remain a reality: "It's going to evolve over time. Nothing will work for everyone," said Wilcox. "If you want to avoid greenwashing, which has burned some in the global system, it's best to set internal guidelines and apply them rigorously." Banks operating across countries and regions need to apply global filters, he added. Some countries are also working on standardization — with the UAE currently working on a taxonomy for sustainability-linked finance, said El Nahas. "Standardization facilitates the movement of capital globally," he added.
Banks are also excited about concessional finance and the growing role of multilateral lenders and export credit agencies taking on some of the risk of large transactions. Doing so would derisk a wide range of projects in a rate marked by rising interest rates and high inflation, the panel noted.
There's clearly a growing demand for carbon credits, but the market is likely to be transitional, said Wilcox. "It's not the end solution."
And no, readers, climate finance is not all for megaprojects such as hydrogen and renewable energy facilities. Businesses of all sizes have growing appetite for sustainable finance — Wilcox rejoined us on stage for our last panel of the day, when he spoke at length about how and why HSBC was financing working with one of the most interesting climate-focused startups we've ever heard of. More on that another day.
Our thanks to the nice people at CairoScene and StartupScene for the imagery from yesterday, which you can see at the head of this story and of which you'll be seeing more in the days to come.
** The Enterprise Climate X Forum is proud to be supported by USAID, HSBC, Mashreq, Attijariwafa Bank, Etisalat by e&, Hassan Allam Utilities, and Infinity.